Can't see this email? View in Browser
Supportive School Discipline Webinar #5: Getting Started
Wednesday, February 11th 12pm - 1:30pm PT
Register for this free webinar
This webinar will provide policymakers and practitioners with strategies and practical advice on how to move forward with school discipline reform efforts, using recommendations from the School Discipline Consensus Report. Presenters will discuss challenges and successes based on their experiences reducing the number of students suspended, expelled, and arrested while also ensuring schools provide conditions for learning wherein all students feel safe, welcome, and supported.
When: Thursday, February 12th 9am Where: 344 20th St. 3rd Fl Oakland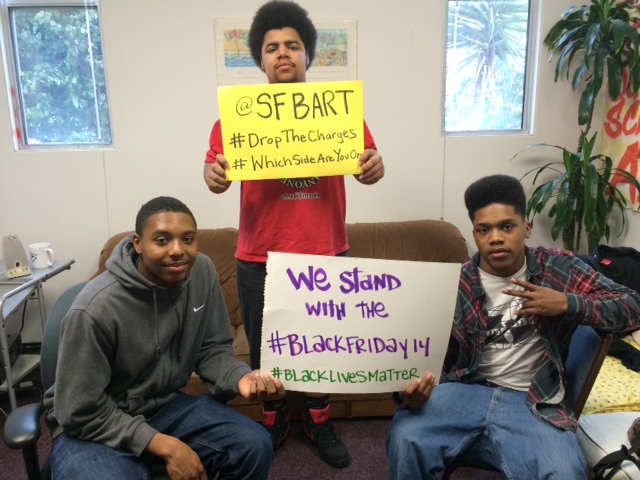 On January 1st, 2009, a BART police officer killed Oscar Grant. Since then, BART police have killed, assaulted and harassed dozens of black people.
Now BART is demanding 14 Black Lives Matter activists who interrupted train service in protest on Black Friday pay $70,000 in restitution and face criminal charges. While these all Black protestors face charges, many multiracial allies who have blocked buses, trains and traffic are not being charged.
Join us at the BART board mtg to demand that charges and restitution be dropped. We cannot allow this dangerous and undemocratic precedent.
RSVP and share on Facebook.
Webinar: DSC Model Code on Education and Dignity Comparison Tool
Thursday, February 19th 1pm PT
Register for this free webinar
In this webinar, you will learn how to use the Dignity in Schools Campaign's Model Code on Education and Dignity Comparison Tool. The DSC has created a Model Code Comparison Tool to engage students, parents and educators in your community in a process to compare your local Code of Conduct to provisions of the DSC Model Code. Be prepared to have your own local discipline code of conduct during the webinar.
School Climate Transformation Through the LCAP
The Awesome, the Surprising and the Challenging from a District with a Model School Climate LCAP
Thursday February 26th 9:30am PT
Register for this free webinar
Join Berkeley School Board President Josh Daniels, Board Member Judy Appel, and BUSD Director of Research, Evaluation and Assessment Debbi D'Angelo for an interactive discussion of implementation successes and challenges. Hear about BUSD's out of the box school climate and funding evaluation tools and surveys. Learn about some of their replicable ideas for making the LCAP even better this year!
Collaborating across the aisles: Continuing the civil rights movement with #Blacklivesmatter
(part of the MoAd After Dark series and including a panel with Coleman's Executive Director)
When: February 27th 6pm to 9pm
Where: Museum of the African Diaspora (MoAD) 685 Mission Street, SF

A new generation is igniting efforts to change the ways in which America deals with race and humanity. The #blacklivesmatter movement sparked by current issues related to race, police brutality and justice is at the forefront of the Black community. However, these issues are not new. They are systematic issues that our predecessors faced prior to and during the civil rights era. They are issues that we continue to face today. Join the MoAD Vanguard and the SF Alphas for a dynamic evening paying homage to civil rights leader Dr. Martin Luther King, Jr. with special keynote speaker Dr. Clarence Jones, Dr. King's speechwriter, advisor and attorney. This evening will also include a panel discussion examining how the civil rights movement is not only a blue print for #blacklivesmatter but a continuation of the struggle for racial equality and justice.

Featuring: Dr. Clarence Jones (Keynote Speaker) — speechwriter, advisor and attorney to Dr. Martin Luther King Jr., author of Behind the Dream, current professor at the University of San Francisco and a scholar writer in residence at the Martin Luther King, Jr. Research & Education Institute, Stanford University

Dr. Joe Marshall (Panelist) — author, radio talk show host, and community activist, founder of the Alive & Free Movement, founder and president of the Street Soldiers National Consortium, and co-founder and Executive Director of Omega Boys Club

Dr. Mary J. Wardell-Ghirarduzzi (Panelist) — Vice Provost for Diversity Engagement at the University of San Francisco. She is also a professor and teaches organizational behavior, leadership, and communication at USF School of Management.

Ms. Neva Walker (Panelist) --- Executive Director of Coleman Advocates for Children and Youth and is a part of Black Lives Matter. She is a long-time youth worker, community organizer and the first African American woman elected to the Minnesota Legislature in the state's history.

Mr. Jarvis Givens (Moderator) — PhD Candidate at University of California, Berkeley - African American Studies. In 2012 he was awarded the Ford Foundation Pre-Doctoral Fellowship and also serves as a graduate mentor for the Mellon Mays Undergraduate Fellowship Program at Berkeley.

Special Community Presentation by Cinnamongirl, Inc. Special Guest: Malia Cohen, SF District 10 Supervisor
Price: Free for MoAD Vanguard Members, $10 Students w/ I.D., $25 General Admission, $30 At-the-Door, $75 VIP
Click here to purchase tickets and here to rsvp on facebook

Promoting Public Policy Reform from Inside and Outside Government
(panelists include Coleman's Executive Director)
When: Saturday March 7th 11am to 1pm
Where: SF State's Downtown Campus 835 Market St. Room 677
Please join the Public Administration Program and the School of Public Affairs at San Francisco State University at this exciting forum. Hear from seasoned change-makers who have had the unique opportunity to fight for social policy reforms from both the inside and the outside of public systems. They will discuss what types of changes are best achieved from which vantage point – legislatures, advocacy organizations, government administrations, philanthropic organizations, and grassroots organized constituencies.

Program Moderator: Fred Blackwell, CEO of the San Francisco Foundation
Panelists:
Margaret Brodkin, Principal of Margaret Brodkin and Associates; Founder and Director of Funding the Next Generation; Former Director of the SF Department of ChildrenYouth and Their Families; Former Executive Director of Coleman Advocates for Children and Youth
Ted Lempert, President of Children Now and Trustee of the San Mateo County Board of Education; Former member of the California State Assembly; Former CEO of Ed Voice

Aaron Peskin, Community Activist; Former member of, and President of the San Francisco Board of Supervisors; Former President of the San Francisco Democratic Party Central Committee

Neva Walker, Executive Director of Coleman Advocates for Children and Youth; Former member of the Minnesota State Legislature; Former organizer in numerous settings, including Center for Third World Organizing
U.S. Education: Still Separate and Unequal, usnews.com 1/28/15
New position in SF school district to focus on success of black students, SFExaminer 2/5/15