Can't see this email? View in Browser
Promoting Public Policy Reform from Inside and Outside Government
(panelists include Coleman's Executive Director)
When: Saturday March 7th 11am to 1pm
Where: SF State's Downtown Campus 835 Market St. Room 677
Please join the Public Administration Program and the School of Public Affairs at San Francisco State University at this exciting forum. Hear from seasoned change-makers who have had the unique opportunity to fight for social policy reforms from both the inside and the outside of public systems. They will discuss what types of changes are best achieved from which vantage point – legislatures, advocacy organizations, government administrations, philanthropic organizations, and grassroots organized constituencies.

Program Moderator: Fred Blackwell, CEO of the San Francisco Foundation
Panelists:
Margaret Brodkin, Principal of Margaret Brodkin and Associates; Founder and Director of Funding the Next Generation; Former Director of the SF Department of ChildrenYouth and Their Families; Former Executive Director of Coleman Advocates for Children and Youth
Ted Lempert, President of Children Now and Trustee of the San Mateo County Board of Education; Former member of the California State Assembly; Former CEO of Ed Voice

Aaron Peskin, Community Activist; Former member of, and President of the San Francisco Board of Supervisors; Former President of the San Francisco Democratic Party Central Committee

Neva Walker, Executive Director of Coleman Advocates for Children and Youth; Former member of the Minnesota State Legislature; Former organizer in numerous settings, including Center for Third World Organizing
Saturday 3/7: SFUSD School Planning Retreat
When: Saturday March 7th\
8:15 to 9:00 a.m.: Breakfast and check-in
8:45 a.m. to 1:00 p.m.: School Planning Retreat
Where: Everett Middle School, 450 Church Street
Who should attend: Principals, members of School Site Councils or English Learner Advisory Committees, families, and your other school community leaders. Talk to your school's principal about how you can attend and participate in school planning!
The School Planning Retreat provides the opportunity to work together as a team on your school's Balanced Scorecard (BSC), academic plan and budget for the 2015-16 school year.
* Hear about SFUSD's priorities, programs and services for 2015-16
* Help develop your school's priorities and plans for next year
* Learn about funding and other sources to serve your students
Interpretation, breakfast and snacks will be provided!
Click here for more details and to request interpretation and childcare
Sunday 3/8: International Working Women's Day March and Celebration
When: Sunday, March 8
12PM Rally & Speak Out for Justice
12:30 PM March to Rise & Resist
1:30 PM Celebration for Women's Strength & Resistance
Where: Lake Merritt Amphitheater (12th st. & 1st ave.) Oakland

Sponsored by many close Coleman allies, including Causa Justa, Mujeres Unidas, and Chinese Progressive Association, this march and celebration will honor the first women strikers in 1909 and will commemorate the 105th Anniversary of International Working Women's Day. Join us as we uphold the Legacy and Power of Women's resistance here and abroad! Bring your signs, banners, and noisemakers and march with us!
Click here to visit the facebook event page for more info.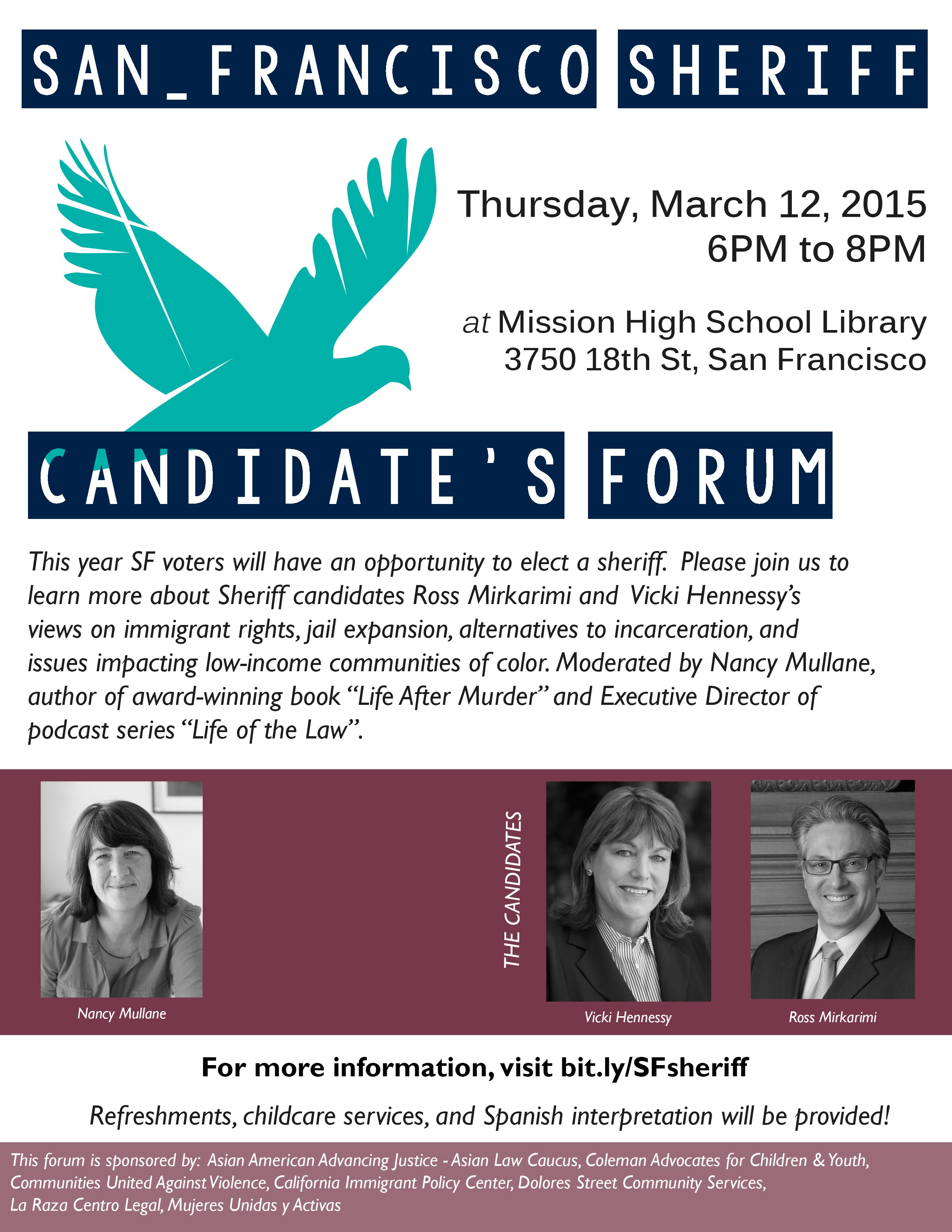 Click here to visit the facebook event page for more info.
3/16: #Vote16SF Rally
When: Monday March 16th 4:15pm – 5:30pm
Where: SF City Hall
Let's expand voting rights to 16 and 17 year olds in municipal and school district elections in San Francisco!

Join the San Francisco Youth Commission and community and youth leaders at this after school rally to show our support before the expected introduction of Supervisor John Avalos' legislation to lower the voting age in SF!

Click here to visit the facebook event page for more info.
3/18: LCFF Road Show – San Francisco
When: Wednesday, March 18, 2015 from 11:30 AM to 1:00 PM
Where: Bechtel Conference Center at PPIC 500 Washington Street
Ground Level San Francisco
Partners: Coleman Advocates for Children and Youth, Parents for Public Schools of San Francisco, Chinese for Affirmative Action, Parent Advisory Council
The purpose of this convening is to share research findings on the general trends of how districts fared in the first year of LCFF implementation. Data from the LCFF One Year Later report will ground community advocates' understanding of how the process was rolled out and the potential pitfalls to avoid in Year 2. Advocates will have an opportunity to engage with fellow participants to strategize and join efforts for improving the LCFF process.
Coleman Youth Leader Featured in Equal Voice online magazine
Click here to read the article and watch the video interview with Jessica!
African Americans top the list of students arrested at SF schools but only make up 8 percent of student body, SF Examiner 2/12/15
With Prop. 47, cities and counties have savings to count, decisions to make, LA Times 2/18/15

Click here to purchase tickets and here to find out about sponsorship opportunities. We can't wait to celebrate with you. We are counting on our supporters like YOU to help us meet our ambitious fundraising goals so we can look forward to another 40 years of making change for the next generation! Questions? email Samantha at events@colemanadvocates.org