Can't see this email? View in Browser
TODAY AT 1PM - Stand up and Speak out for our Rights as Tenants in SF!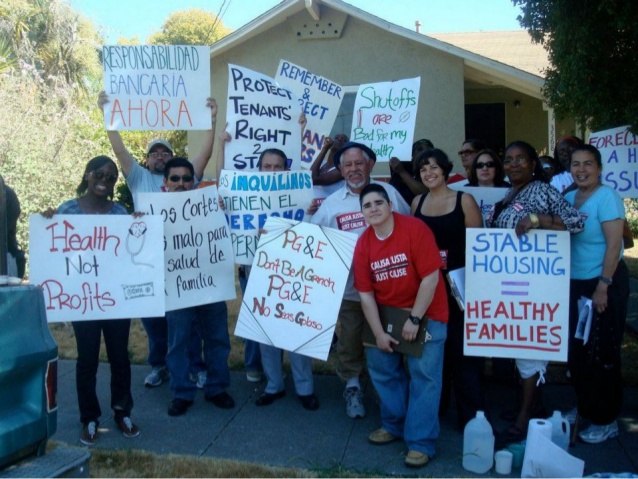 TODAY, join tenants and housing justice advocates (Causa Justa, SOMCAN, SF Anti-displacement Coalition, and others) from all over SF to protect thousands of tenants from unjust evictions by supporting the Eviction Protections 2.0 legislation. We need to make sure it makes it out of committee! This is an opportunity to protect thousands of Tenants from unjust evictions!
Evictions in SF have risen 67% in the past 5 years and "low-fault" evictions have significantly risen during this time. We know that this increase in evictions, and especially "low-fault" evictions, are not a result of more tenants behaving badly, but a result of landlords and speculators evicting long-term rent-controlled tenants for profit. We need to stop this! We need to close the loopholes! We need to strengthen eviction protections NOW!
When: TODAY Monday 7/27 1:30pm at Land Use (12pm at City Hall Steps for the Press Event)
Where: City Hall SF, 1 Dr Carlton B Goodlett Pl, San Francisco, CA 94102
Why: Because tenants should not get evicted for leaving strollers in the hallway. Because Tenants should not be evicted for wanting to live with the partners. Because Tenants should not be evicted for not speaking/reading English. Because Tenants should not be Evicted for profit!
Wednesday August 5th - Farewell Party for Chelsea and Pina!
Join us as we say farewell and thank you to two beloved members of the Coleman Family – Coleman's Director of Programs Chelsea Boilard and Coleman's Director of Parent Organizing & Education Policy Christina (Pina) Canaveral. Please join us in expressing our love and gratitude and wishing them all the best in their future endeavors!
When: Wednesday August 5th 6pm to 8pm
Where: Coleman Community Center 459 Vienna St. SF btwn Persia and Brazil.
Click here to rsvp on the facebook event page
Introducing our new Director of Programs and our new Director of Organizing!
José-Luis Tekun Mejia, Coleman's new Director of Programs, was born and raised in San Francisco and East Oakland to immigrants from El Salvador and Guatemala. José-Luis 'flipped the script' from experiencing violence and the street economy to dedicating his life to creating positive change and opportunity locally and nationally through direct service and policy advocacy. José-Luis has worked in youth development for the past ten years as a mentorship, life-skills, multi-media, and rites-of-passage facilitator. He also has extensive experience in the youth and young adult policy sector as a youth engagement strategist, qualitative researcher, advocate, trainer, and public speaker. Most recently, he served as Associate Director at Transitional Age Youth San Francisco (TAYSF), where he worked with the Children & Youth Fund Community Coalition (CYFCC) to win the inclusion of TAY in the reauthorization of San Francisco's historic Children's Fund. José-Luis is the proud father of Iyari and Tekun and life-partner of Lizbett Calleros.
Keith Snodgrass, Coleman's new Director of Organizing, is originally from St. Louis, MO and brings to Coleman a decade of experience working with Unions, including SEIU-UHW, AFSCME Local 3299, and SEIU Local 1021 and 790, as an Organizer, Negotiations and Grievance Coordinator, and as a Labor and Field Representative. He also brings valuable community organizing experience from his work with Safe Streets Strong Communities in New Orleans and training and capacity building experience from his work with the Center for Third World Organizing and the Northern California Black Worker Center. Keith is an alumni member of the Movement Activist Apprenticeship Program (MAAP) and a member of the Black Organizing Project in Oakland where he lives with his wife and two children. He is also an accomplished musician and dedicated BBQ Pit Master.
Excelsior Art & Design Camp August 3rd - 7th.
The Digital Action Hub (founded by a former Coleman student organizer and staff member) is hosting an Art & Design camp during the first week of August for kids ages 7 to 11. The camp will explore a variety of techniques - hands-on traditional mediums, as well as digital mediums. Kids will have the opportunity to experiment with digital murals, music production, photography, painting and much more! To RSVP Click here and input "ECdiscount" for a special 20% off discount!
Tell your Assemblymember to End Solitary Confinement of Youth
Earlier this year, Senator Mark Leno introduced SB 124 to prevent and limit the use of solitary confinement in state and county juvenile lock-ups across California. The bill is slowly making its way through the Senate and will be voted on any day. The Ella Baker Center, along with the Youth Justice Coalition and the Children's Defense Fund California have created a petition to demonstrate community support for this legislation. Please take a few minutes to email your Senator and let them know that you support SB 124 and an end to youth solitary confinement! Click here to sign the petition.
Homeless students get new attention in school accountability plans – EdSource (July 19th)
Pelosi Proposes Lowering the Voting Age to 16 − PJmedia.com (July 19th)
The Motivating Forces Behind Black Lives Matter – Good Magazine (July 20th)
California ranks 38th in kids' well-being – San Jose Mercury News (July 20th
Unlocking potential: S.F. County Jail offers first college credit classes to inmates – SF Examiner (July 23rd)
Inside Oakland's Youth Court, Where Kids Call the Shots –KQED (July 24th)