Can't see this email? View in Browser
Multiple new policies to inform a landmark year of change in SFUSD
Safe and Supportive Schools Resolution and new SFUSD/SFPD MOU
Earlier this year, Coleman helped to win the Safe and Supportive Schools Resolution – authored by Commissioner Haney and passed unanimously by the Board of Education – to expand the district's commitment to positive, research-based alternatives to harsh school removal practices. The resolution includes a number of major reforms to make SFUSD schools safer, improve student achievement, and create a more positive school climate for teachers and students.
On the same evening that the Board of Ed passed the Safe and Supportive Schools Resolution, they also approved a new MOU between the school district and the SF Police Department meant to reduce student arrests and interaction with the police. This new agreement was the result of nearly three years of negotiations that involved community groups, the district and SFPD. Coleman and our community partners worked hard to ensure the new MOU was truly informed by the experiences and perspectives of affected youth.
Coleman student and parent members are entering the 2014-15 school year hopeful, but grounded in the experience and knowledge that – without comprehensive and timely implementation – a policy or an MOU is only words on a piece of paper. We will continue to work to ensure that the district follows through on its implementation action plans and timelines, including the development of strong oversight, evaluation, and reporting mechanisms and meaningful engagement of youth, parent, and community members in the implementation processes.
This week, we will have our first meeting of the school year with district leadership to hear their report on progress made so far related to agreed-upon Safe and Supportive Schools Policy implementation benchmarks. Click here for an overview of some of the key benchmarks the district committed to meeting by the start of the school year.
We also look forward to re-engaging with the district and SFPD in the coming weeks to learn about progress made related to the MOU. We know, for example, that in at least two cases last semester police officers were called on elementary school students. The fact that this kind of activity continues to take place suggests that the district could be doing a better job of educating and engaging all relevant staff and faculty about the new MOU.
Stay tuned for updates and information about how you can support our efforts to make sure that these policies result in real and positive change for our students!
Unaccompanied Immigrant Children
We want to extend our deepest appreciation to Commissioners Haney, Fewer and Mendoza-McDonnell for co-authoring a Resolution calling for San Francisco Unified to meet the short-term and long-term needs of unaccompanied immigrant children, including facilitating access to legal, health, and mental health services, and ensuring adequate staffing and professional development. The district also made the commitment to hire a full time staff person to coordinate these efforts. The Board approved the resolution unanimously, and signed on collectively as co-authors.
The Resolution reflects a national dialogue about how we should respond to the unprecedented number of immigrant children, many of them unaccompanied, who are fleeing violence and poverty in Central America to seek refuge in the United States in recent months. Thousands of these young people continue to be held near the border, while others have been placed with family members or foster families, including hundreds that are here in San Francisco.
In the words of Commissioner Haney, "As a school system, our focus must always be on our commitment to meet the needs of all children. When young people come to our schools, we have the responsibility to welcome them, and to draw on whatever resources, coordination, and collaboration necessary to meet their needs, both academic and non-academic. Immigrant children must have the same opportunity to learn, grow and thrive in every available facet of our school district".
Minimum Wage for SFUSD workers
San Francisco Unified School District is one of the largest employers in the city, with approximately 8,000 workers on its payroll. Yet in this past school year, 883 part-time employees -- mostly lunch monitors and student aides and interns -- were paid less than The City's minimum wage. This was technically legal because SFUSD is a state agency and not required to match the minimum wage.
In June, SFUSD secured more than $150,000 in its 2014-15 budget to ensure all employees are paid at least the San Francisco minimum wage this school year. There was no commitment for future years however, and no commitment to meet the new minimum wage if it passes in November.
Last week, the SF Board of Ed passed a Resolution, authored by Commissioner Haney, that guarantees that the district continues to meet local minimum wage in the coming years.
"This is a big statement for the school district to make about our future commitment to abide by the San Francisco minimum wage," Haney said. "We want to respect the standards that San Franciscans have set for all employers."
In Solidarity with the Community of Ferguson
Coleman Advocates for Children and Youth stands in solidarity with the family of Michael Brown. We stand with the mothers and fathers of young Black men and women who fear for the safety of their children each time they leave their homes. We stand with the community of Ferguson, Missouri and all those fighting for racial justice and civil rights. We are deeply saddened and outraged about the death of yet another young Black man at the hands of the authorities who are supposed to protect and serve them.
There is racial bias against Black people at every level of the criminal justice system. The cumulative effect of institutional and interpersonal racism by police and other law enforcement agencies is that Black people are disproportionately arrested and incarcerated. They receive longer sentences for the same crimes as white people and are subjected to disproportionate supervision and harassment by the legal system throughout their lives. And they are disproportionately injured and killed – one Black man is killed every 28 hours by the police or vigilantes, according to a recent study.
Coleman joins with others around the world calling for justice for Michael Brown and all youth of color systematically criminalized by our broken justice system. Coleman also stands strongly opposed to the brutal militant police response in Ferguson. Our communities have a right to express ourselves and our demands for change without fear of violence and repression from the police.
Michael Brown was 18 years old, a recent high school graduate who was set to begin attending Vatterott College the next day. He had not only beaten the odds and avoided being consumed by the school-to-prison pipeline, but he was reaching for a better life. Coleman's youth members see themselves and their struggles in Michael Brown. Coleman's parent members see their children and the everyday risk that their children face in Michael Brown.
Our hearts are with the family and friends of Michael Brown, with the people of Ferguson and with all those who are fighting for their rights to be free from racial oppression and safe from police violence.
More on this issue:
Understanding what's happening in Ferguson, Colorlines 8/12/14
Militarization of Police Scrutinized by Lawmakers, Equal Voice News 8/14/14
Michael Brown's School has an alarmingly high suspensions rate, Colorlines 8/14/14
For the sake of Michael Brown (breaks down the decades of economic disenfranchisement in Ferguson), St. Louis American 8/14/14
Melissa Harris-Perry: The Deaths of Black men in America, MSNBC 8/16/14
On Friday noon, August 22nd, march with us from Bernal Heights, from the spot where our beloved brother Alex Nieto (a former YMAC member) was unlawfully killed by the San Francisco Police Department, over to Mission Street, and down to the United States federal courthouse in San Francisco's Civic Center. We will join the Nieto Family in submitting a federal civil complaint.
Click here to RSVP on facebook
Click here for more info
Free tech workshop for non-techies
Round 2! Front End Web Development
Hosted By: Digital Action
When: Thursday, Aug. 28th, 6pm
Where: Coleman Advocates 459 Vienna St. SF
Lets make a personal website, together!
Digital Action would like to invite you to a followup workshop meant to put into practice what we learned on Wednesday August 6th.
If you were not able to join us the first time around, no worries! This workshop will be self-paced and appropriate for beginners.
YOU WILL NEED A COMPUTER!
• If you have a computer, please bring it. If you don't have one, let us know and we're happy to provide one for you. • No prior programming experience needed – this is for beginners! • Great for anyone interested in creating a website – students, non-profit professionals, teachers, parents, etc. Everyone is welcome! • Refreshments will be provided • Starts promptly at 6:00pm!
To RSVP contact lenacarew@gmail.com Click here for more info
Coleman travels to Texas to share lessons learned from our Solutions Not Suspensions Campaign.
On Saturday, Coleman's Director of Youth Organizing Kevine Boggess participated - as a featured expert - in the Texas Organizing Project (TOP) Parent/Student Summit. TOP works to improve the lives of low-income and working class Texas families through community organizing, and civic and electoral engagement. The Summit included interactive workshops with national education experts to explore strategies for improving Dallas schools. Kevine co-facilitated two workshops with Maria Hernandez, Senior Youth Coordinator of Urban Youth Collaborative (UYC), a citywide coalition of NYC students of color fighting for education reform in NYC public schools. He shared lessons learned and organizing strategies related to our successful Solutions Not Suspensions campaign. We are excited about the potential of our campaign and the passage of the Safe and Supportive Schools Resolution as a source of inspiration and education for community groups and school districts around the country.
Upon return, Kevine shared that in these kinds of organizing exchanges he is always struck by the similarities in experiences and struggles among students of color regardless of what city they live in. In addition to sharing challenges and best practices related to combating the school to prison pipeline, Kevine also learned about other education equity efforts in Dallas, including high schools where students graduate with an AA degree as well as a high school diploma. Coleman student members have identified this kind of program as something they would like to see at their schools and Kevine is excited for them to learn more about how it works in Dallas schools.
Coleman Intern Spotlight: Gerard Donnel
Gerard, a graduate student at the University of San Francisco getting his masters in Urban Affairs, has been volunteering at Coleman 20 hours a week for the past few months. Gerard got to know Coleman's work when he participated in a class at USF on race, organizing, and political power taught by Coleman Executive Director Neva Walker and Director of Programs Chelsea Boilard, along with former Coleman staffer and Board of Ed President Sandra Fewer.
Gerard grew up in San Antonio Texas and his experiences in the public school system there helped to cement his commitment to working for education equity. Many of his peers felt disregarded and undervalued in school and ultimately dropped out and, in some cases, ended up in prison. His nieces and nephews in Texas are currently attending public school in one of the many districts in the country facing school closures. Because of chronic closures, they have had to attend a different school every year from kindergarten to fourth grade — and each year their school is further and further away from their home. This constant change has inhibited their ability to form relationships with peers and teachers and has been a challenge in their academic success and in their lives in countless ways. Gerard sites his desire for his nieces and nephews to have access to the quality education they deserve as a major motivating force.
Gerard has been an indispensable resource to the Coleman team. He has volunteered at multiple Coleman community events and is carrying out policy research related to school discipline issues, juvenile justice, and restorative justice. Gerard is also volunteering with Coleman's sister organization, the Coleman Action Fund, helping to coordinate Board of Education candidate interviews. And all this while going to school full time and working at SFUSD as a Special Education paraprofessional. We are so grateful to have such a dedicated, smart, and generous intern supporting Coleman's work.
Whites, the New Minority in America's Classrooms, Equal Voice News 8/11/14
Federal Investigators Crack Down on Schools' Use of Restraints, Alternet 8/14/14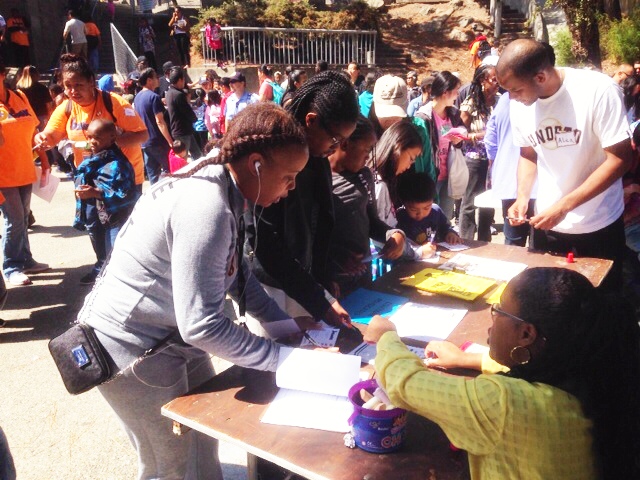 Coleman leaders, volunteers, and staff at the BMAGIC backpack giveaway on Saturday educating the public and signing up parents for upcoming PMAC (Parents Making a Change) workshops.