Can't see this email? View in Browser
Thursday 9/4 - The Future of San Francisco's Working Class: a Jobs With Justice Forum
When: Thursday, September 4th 7pm-9pm
Where: 518 Valencia St (by 16th St BART)
What: From the fight to raise the minimum wage, the fight against displacement and to keep City College open, the future of the working class in SF is at stake. Activists from the frontline of these struggles will discuss the current political landscape and map our way forward.
* Maria Poblet from Causa Justa :: Just Cause
* Fernando Marti from Council of Community Housing Organizations
* Shanell Williams, CCSF Student Trustee
* Feng Kung from Jobs with Justice
Click here to RSVP on facebook
Contact Kung at kung@jwjsf.org for more info or to request childcare or translation. Space is wheelchair accessible.
Help us get the word out to voters and help pass Prop C in November!
Prop C (the Children and Families First Initiative) is a powerful piece of legislation that would re-approve both the Children & Youth Fund AND the Public Education & Enrichment Fund, together amounting to more than $125 million in services for children, youth and families in San Francisco! This funding means that we have child care, afterschool programs, youth jobs, violence prevention programs, family support centers, and school-based programs for the young people and families who rely on them!
Two great ways to support the passage of Prop C
Volunteer to Drop Literature: Starting in September, we will be hanging door hangers in neighborhoods across San Francisco, every weekend, to spread the word about the importance of Prop C, and makes sure that this measure passes in November—and we need your help! Each day we will be focusing on a precinct walk in a different neighborhood—please contact Chelsea if you are willing to volunteer in distributing literature in your neighborhood!
Get trained to participate in a Prop C Speakers Bureau:
When: Friday, September 5th, 5:30-7pm
Where: Children's Council of SF, 445 Church Street
Light dinner will be provided
Calling youth, parents, and community members who want to join the Prop C Speakers Bureau!
It's powerful for voters and SF residents to hear directly from the youth, parents, and community providers who are so closely connected to the programs funded through Prop C. We will train you on the basics of Prop C as well as how to present about Prop C in front of a group! If you join the Speakers Bureau, there will be opportunities for you to be a Prop C spokesperson at endorsement meetings, informational meetings, and visibility events!
There is a paid stipend opportunity for youth/parents who join the Speakers Bureau.
RSVP to Chelsea
Click here more info on Prop C. Click here for a Vote Yes on Prop C Flyer.
9/27: SFUSD Family Empowerment Conference
Click here to register.
Coleman Executive Director Joins "Black Lives Matter Ride" to Ferguson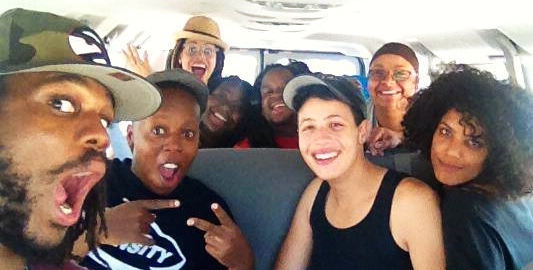 On August 28th, Coleman's Executive Director, Neva Walker, joined the "Black Lives Matters Ride" (BLM Ride), a national advocacy effort of #BlackLivesMatter that brought concerned citizens from across the country to Ferguson Missouri, as part of a national call to end state violence against Black people.
While in Ferguson, Neva and other Black Lives Matter Riders participated in strategy sessions about how individuals and organizations from around the country can support the community-led movement in Ferguson and move forward local and national demands for justice for Mike Brown and all victims of law enforcement and vigilante violence. Riders also canvassed the Prosecutor's house and neighborhood and participated in a march with local community members.
The BLM Ride, organized in the spirit of the early 1960s interstate Freedom Rides to end racial segregation, was a call to action organized by advocates based in several states in close collaboration with the Organization for Black Struggle (OBS) and Missourians Organizing for Reform and Empowerment (MORE), the two lead organizations working with the Ferguson community in response to the shooting death of 18-year old Michael Brown by Ferguson police officer Darren Wilson.
As a national call to action, the BLM Ride unified Black people under the set of demands organized by the local organizers as well as the following national demands:
1. Justice for the family of Michael Brown and all other victims of law enforcement and vigilante violence.
2. The development of a national policy specifically aimed at redressing the systemic pattern of anti-Black law enforcement violence in the US.
3. De-militarization of law enforcement: We are demanding that the federal government discontinue its supply of military weaponry and equipment to local law enforcement. Furthermore, law enforcement agencies across the country should liquidate their current military resources, immediately.
4. Release the names of all officers involved in killing Black people both on patrol, but also inside custody from the last 5 years onward.
5. Decrease law enforcement spending/budget by ½ by 2016, and invest that money into Black communities most devastated by poverty in order to create jobs, housing, and schools.
Coleman documentary about school-to-prison pipeline available for online viewing/screening
In this new documentary from Coleman Advocates, director Kevin Epps takes a look at the negative effects of harsh zero tolerance policies in schools and one community's inspiring response. Highlighting Coleman's landmark student-led Solutions Not Suspensions campaign in San Francisco and examining how young people are directly affected by school discipline policies, the film serves as an informative and inspiring education tool. Click here to stream the video.
Coleman members and staff highlighted in Equal Voice News Labor Day Edition
Click here to read the interviews.
Coleman crew participating in the endorsement process with SF Rising Alliance, for key local and state ballot measures!